When's the last time you took a moment to reflect on the experience that your prospective students have when they receive your marketing materials? Are you blasting out generic 'welcome,' apply,' and 'visit' messages that look the same to every recipient? Then I have bad news for you: There's a good chance that you're alienating a significant portion of your audience that's hungry for something more. You're showing your students what you think they want, rather than addressing what they're actually asking you for.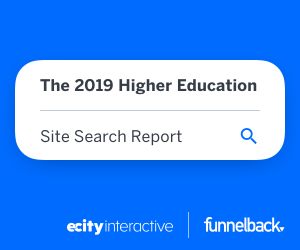 There's a better way to do your work — one that will drive conversions, increase yield, and build a sense of loyalty for your prospects. So as you develop your marketing strategies for the coming recruitment cycle, take the time to explore how to incorporate personalization into your campaigns and efforts to create an experience that will tell students that they matter, regardless of who they are.
Embracing the B2C Mindset
Every morning when I check my Gmail, I'm reminded of how powerful and targeted email marketing can be. I'll find a message from a retailer offering me a discount code on some yoga pants I looked at on their site yesterday, an alert from Yelp about which new restaurants are trending near my home in Seattle, and a weather and travel guide from Expedia for the upcoming trip I booked to Philadelphia.
We live in an era where consumers don't just tolerate personalized marketing — they expect it.
These businesses have figured out that the secret to successful customer engagement comes from serving relevant content to their audience in a manner that recipients will value. In the marketing world, we call this personalization, and it's something that consumers have come to expect when they interact with brands. By leveraging the data that subscribers are providing (both intentionally, like the information on an info request form, and unconsciously through things like browsing history and engagement metrics), marketers can develop segments and identify what messages matter most to those in their database. This information is then turned into actual content, utilizing CRM capabilities and digital assets to deliver campaigns that are tailored to the recipient's profile, interests, and behaviors.
Higher ed is a different world than e-commerce, of course, but there's a lot we can learn from the way other industries are connecting with customers. We have a wealth of data points available for our leads, we have valuable and relevant information to share, and we have an audience who is hungry to know more. Our students are telling us what they're looking for, sometimes without even realizing it. Combine that with the fact that choosing a university is a much bigger decision than buying a mattress, fitness program, sparkling water, or any of the hundreds of other products that are being marketed to them every day, and we have many compelling reasons to explore what personalization looks like for our institutions. The opportunity is ours to embrace, if we're willing to build out the strategy and goals to make it happen.
Creating Your Roadmap
Launching a personalization strategy isn't necessarily easy, but it doesn't have to be hard either. As with any other initiative, it requires goal-setting, prioritization, assessment, and planning. It's natural for our minds to go immediately to splashy graphics and email copy, but by taking a more intentional, methodical approach to building this initiative out, we're more likely to create something that's scalable, measurable, and effective.
Ready to jump in? Follow this sequence to execute a strategy that combines solid fundamentals with your institution's own unique approach to engagement.
Step 1: State Your Goal
For any marketing project, this is step one. What is it you hope to drive through personalization? How will you know if you're successful? I recommend you start by identifying a maximum of three CTAs that you'll be pushing in your marketing. This could be something like reading an article in your e-magazine, registering for a campus visit, or providing more information in a long-form RFI. Whatever these objectives might be, ensure that they have KPIs attached to them so that you're able to track whether your efforts are working as intended. Build out benchmarks, think through the metrics, and explicitly note how you'll report results.
Step 2: Prioritize Your Data
If you look at a student record in your CRM, you'll realize you probably have more data points available than you could ever manage in a campaign. This means you'll have to prioritize which profile points you want to center your messaging around. First, take a look at your student data from a meta level. Remember that not everyone in your database will have information recorded in every field on their profile. When you're deciding where you want to personalize, make sure that you're leveraging something that you'll be able to apply to a majority of your records. For instance, if you plan messaging around co-curricular interests, but only 15% of your inquiries have given you information on this, you're not going to have the desired impact.

Next, reflect back on your goal and think about what information best ties into your desired CTA. Which profile points can be integrated into the messaging you're sending and drive recipients to take the appropriate action? The aim is to incorporate personal data in a way that flows naturally. Your objective isn't to tell your audience that you know X, Y, and Z about them; instead, you want to show how X, Y, and Z relate to what you have to offer.

Step 3: Evaluate Your Assets
Take a look at the tools that you have available for your work. What is your CRM capable of, and how easily can you build and manage personalized campaigns? Explore the technology and automations that will enable you to find the right balance of efficiency and effectiveness, then make sure you fully understand how to use these resources. For instance, in our CRM, we're able to use one of our automation tools to customize which email header a prospective graduate student sees on our welcome email based upon the program in which they're interested. Why use a generic university header when you can get more specific?

But also remember that your already-existing content is also a key piece of this puzzle. Index and tag your blog posts, articles, photos, and videos in a manner that correlates with the data points you identified in the previous step. By doing this, you can identify what's available for you to serve up to your audience segments — and where you still need to fill in the blanks. By building out a content inventory, you'll be able to access the assets you need; this will also help to develop an audit process that ensures that these materials stay fresh and relevant.