eduWeb 2019 took place just a few blocks from the Volt headquarters, giving us an easy commute and a home field advantage. This was Volt's first showing at eduWeb, so we wanted to join in on all the action. We got right to work setting up our booth, meeting with other attendees and vendors, and hammering some nails into pieces of fruit for our "shocking" experiment (if you know, you know). We came to eduWeb seeking contributors to Volt and we were not disappointed with the interest and positive responses we received. If you missed out on connecting with us about this opportunity, let us know!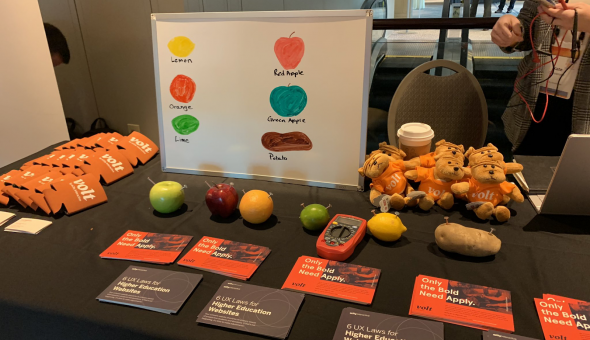 What We Learned 
Inclusion and Accessibility
Erika Boltz, the social media coordinator for The University of Florida Health, used her space to address the increasingly pressing issue of web accessibility. As people with disabilities continue to fight for inclusivity, Boltz challenged us to ensure that our content is able to suit the needs of a diverse community with different needs and skills. Some tangible ideas she gave us for doing this are adding captions to video content for those who are deaf or hard of hearing and alt-text to images for individuals with low vision or that are blind.