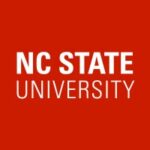 Website North Carolina State University
Posting Details
Posting Information
Posting Number PG192846EP
Internal Recruitment No
Working Title Chief Communications and Marketing Officer
Anticipated Hiring Range Commensurate with Experience
Work Schedule Monday- Friday ; 8:00 am-5:00 pm and other hours as needed to fulfill the duties of this position
Job Location Raleigh, NC
Department University Communications
About The Department
North Carolina State University was founded in 1887 with the purpose of creating economic, societal and intellectual prosperity for the people of North Carolina. Today NC State is the largest university in North Carolina, with more than 37,000 high-performing students, 9,000 preeminent faculty and staff and 260,000 alumni. NC State is a research-extensive university known for its leadership in science, technology, engineering and mathematics. We're also at the forefront of teaching and research in agriculture, business, design, education, humanities and social sciences, natural resources, textiles and veterinary medicine. NC State is consistently named as one of the best values in higher education, and many of our programs are ranked at the top of their respective disciplines. We take a great deal of pride in our collaborative, supportive and collegial team culture. All staff are provided opportunities for training and professional development, with an eye to personalized career growth.
University Advancement (UA) secures support for NC State University by raising funds from private sources, engaging current and future alumni, building a culture of philanthropy, and enhancing the university's reputation through integrated marketing and communications. Led by Vice Chancellor Brian Sischo, UA fulfills its mission through the operations of four main units: University Development, which seeks and obtains philanthropic support; Alumni Engagement and Annual Giving, which fosters and maintains mutually rewarding relationships with the university's alumni; University Communications and Marketing, NC State's dedicated communications agency; and Advancement Services, which provides information management for fundraising activities across the University.
This is a particularly exciting time for NC State and the University Advancement team on the heels of the successful completion of the Think and Do the Extraordinary Campaign, the largest in the University's history, having raised $2.1 billion on a $1.6 billion goal. Key achievements of the campaign included: 1,300 new scholarships and fellowships, which already have provided financial support for 5,000-plus additional students; 104 new endowed distinguished professorships; the university's first three named, endowed college dean's chairs; the naming of the Wilson College of Textiles; and significant infrastructure investment in new buildings and older facilities alike. NC State continues to experience record fundraising years, which combined with strong budget support from the state and a bold strategic plan, will have profound impacts at the institution for generations to come.
University Communications and Marketing is NC State's dedicated communications agency. Our team provides leadership, strategy, services and support to advance the NC State brand and help the university achieve its core mission. We work to promote local, national and worldwide visibility for the university and its students, faculty and staff. The office is committed to informing the public and the university community about NC State's innovative, varied learning environment, its world-leading scholarship and research, and its unswerving dedication to improving lives by finding practical solutions to real-world problems.
Essential Job Duties
The Chief Communications and Marketing Officer ( CCMO ) will spearhead the development and implementation of strategic, innovative, creative, and measurable communications and data-driven marketing programs that are aligned with the strategic priorities of NC State. A member of the University Advancement Leadership team reporting to Vice Chancellor Brian Sischo, this individual will serve as a member of the Chancellor's Cabinet and University Council. The CCMO will work in partnership with internal and external constituents to develop strategies and practices that elevate public understanding and support for the university's mission. Additionally, the CCMO will serve as a main point of contact for the Chancellor, providing routine, day-to-day communications support for the Chancellor's Office while serving as the Chief Spokesperson for the University and playing a major role in crisis planning and communications.
The CCMO will possess exceptional diplomacy, judgment, and integrity; a full understanding of the marketing, branding, and communications process from creative conceptualization to implementation; expert knowledge of traditional, digital and emerging media; experience in crisis communications; and demonstrated success fostering a welcoming and collaborative culture among a communications and marketing team and with non-centralized communication partners across campus. This dynamic leader will possess superb communication skills and will address challenges with poise and consistently amplify the university's messages on a local, national, and global scale.
Qualifications
Other Responsibilities
Minimum Education And Experience
Post -baccalaureate degree from an accredited college or university and 7-10 or more years of demonstrated senior leadership experience in institutional communications and marketing or bachelors degree and equivalent professional training and 10-15 years experience.
Other Required Qualifications
Proven record of success in an administrative position with responsibility for guiding strategy, fiscal planning and management, supervising, motivating and developing employees, and fostering belonging and teamwork to create collaborative working relationships across various groups.
Demonstrated success developing and implementing branding and marketing strategies to enhance institutional reputation, grow enrollment and drive philanthropy for a large, varied organization.
Outstanding strategic and creative planner, master collaborator, and relationship builder with strong interpersonal skills.
Experience in crisis management and response to include reputation management.
Excellent verbal and written communication skills and presentation skills are paramount; the successful candidate must be a comfortable public speaker and able to articulate the needs, interests, and accomplishments of NC State to various constituencies.
Knowledge of best practices, emerging issues, trends and opportunities in university/higher education communications and marketing.
Proven ability to thrive in a fast-paced, complex, academic environment, juggling numerous projects, and satisfying multiple constituencies simultaneously.
Computer literacy and competency/familiarity with various digital marketing platforms and complex CRMs.
An understanding of the land grant, research Tier One university environment.
Preferred Qualifications
Master's or professional degree in marketing, communications, higher education, public relations or related discipline.
Higher education administrative leadership experience with similar responsibilities to this position.
A deep understanding of and passion for the role of public higher education.
Private industry experience in news media, public relations, communications or marketing.
Required License(s) Or Certification(s)
North Carolina Driver's License required within 60 days of hire and must be maintained.
Valid NC Driver's License required Yes
Commercial Driver's License required No
Recruitment Dates and Special Instructions
Job Open Date 09/18/2023
Anticipated Close Date Open Until Filled
Special Instructions to Applicants
Please submit a resume, cover letter, and contact information for at least three (3) professional references.
NC State has retained the firm Isaacson, Miller to lead this important search. They will be managing the process including the screening and evaluation of all candidates. Serious inquires should be directed to them at https://www.imsearch.com/. Note: All candidates are required to submit their materials via the NC State HR web portal.
Position Details
Position Number 00004408
Position Type SAAO Tier II
Full Time Equivalent (FTE) (1.0 = 40 hours/week) 1.0
Appointment 12 Month Recurring
Mandatory Designation – Adverse Weather Mandatory – Adverse Weather
Mandatory Designation – Emergency Events Mandatory – Fire/Explosions, Mandatory – Medical Emergencies, Mandatory – Hazardous Material Incidents, Mandatory – Transportation Accidents, Mandatory – Evacuations/Natural Hazards, Mandatory – Utilities/Infrastructure Failure, Mandatory – Threats of Violence/Terrorism/Interpersonal Emergencies
Department ID 081001 – University Communications
AA/EEO
NC State University is an equal opportunity and affirmative action employer. All qualified applicants will receive consideration for employment without regard to race, color, national origin, religion, sex, gender identity, age, sexual orientation, genetic information, status as an individual with a disability, or status as a protected veteran. Individuals with disabilities requiring disability-related accommodations in the application and interview process are welcome to contact 919-515-3148 to speak with a representative at the Office of Institutional Equity and Diversity.
If you have general questions about the application process, you may contact Human Resources at (919) 515-2135 or workatncstate@ncsu.edu .
Final candidates are subject to criminal & sex offender background checks. Some vacancies also require credit or motor vehicle checks. Degree(s) must be obtained prior to start date in order to meet qualifications and receive credit.
NC State University participates in E-Verify. Federal law requires all employers to verify the identity and employment eligibility of all persons hired to work in the United States.