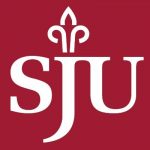 Website saintjosephs Saint Joseph's University
Welcome and Introduction
Saint Joseph's University is a private, Catholic, Jesuit institution and we expect members of our community to be knowledgeable about – and to make a positive contribution to – our mission. Saint Joseph's University is an equal opportunity employer that seeks to recruit, develop and retain a talented and diverse workforce. The University is committed to the diversity of its faculty and staff so that our students, our disciplines and our community as a whole can benefit from the multiple perspectives it offers. The University seeks qualified candidates who share our commitment to equity, diversity and inclusion. EOE
Saint Joseph's University prohibits discrimination on the basis of sex in its programs and activities, including admission and employment, in accordance with Title IX of the Education Amendments of 1972. The Title IX Coordinator is responsible for overseeing compliance with Title IX and other civil rights laws and regulations. To contact the Title IX Coordinator, e-mail titleix@sju.edu, visit Campion Student Center suite 243, or call 610-660-1145. To learn more about the University's Title IX policies, the process for filing a report or formal complaint of sex discrimination, sexual harassment, or other form of sexual misconduct, and the University's response to reports and/or formal complaints, please visit www.sju.edu/titleix. Inquiries may also be directed to the Federal agency responsible for enforcing Title IX, the U.S. Department of Education Office for Civil Rights.
Consistent with the Philadelphia Department of Public Health (PDPH) guidance, Saint Joseph's University requires all faculty, staff, and students who will be on our campuses to be fully vaccinated, except for those with documented and approved medical and religious exemptions.
Open to: Internal and External Applicants
Full-Time or Part-Time Status
Full-Time, 12 months
Staff Job Type
Salaried/Exempt
Position Summary or Faculty Qualifications
Saint Joseph University's Department of Athletics is entering a transformational era, with a premium on creating a world-class Division I experience for its student-athletes; generating excitement among the campus community, alumni and the Philadelphia area; and competing for Championships in the Atlantic 10, one of the best conferences in Division I. We are looking for energetic, hard-working candidates who have a passion for competing and are excited to push the boundaries of traditional thinking when it comes to college athletics.
The Assistant Director of Athletics Communications holds a key position in the office of Athletics Communications, as well as the Saint Joseph's University community. The incumbent provides strategic communications for numerous high-profile sports programs and amplifies Saint Joseph's Athletics to the community, region and nation. The incumbent will also help develop and implement a social media strategy for the department's main social media accounts, and work with programs to help create a greater following and more interaction among numerous accounts.The position requires strong communication skills and a highly motivated and organized person that understands the needs and hours involved in college athletics.
Duties and Responsibilities
Serve as primary media contact for the women's basketball, men's lacrosse, women's lacrosse, men's soccer, men's track and cross country and women's track and cross country programs.
Facilitate media requests and arrange interviews for the coaches and student-athletes of those teams
Generate publicity for the athletics program on the local, regional and national levels through written and visual stories, press releases, social media content and contact with the media
Assist with the daily maintenance and editing of the athletic department's official website, while contributing post-game recaps, news releases
Manage team information, statistics, records and maintain archives, including photos and video content
Cover home games for designated sports, which includes creating gameday graphics, in-game responsibilities including coordination of statistics, public address, scoreboard and assistance with broadcasts, and postgame recap, statistic distribution and postgame media needs
Secondary Responsibilities
Assist and maintain in the creation of graphic calendar for the Athletics Department's main social media accounts, along with team-specific accounts
Respond to requests from the NCAA, Atlantic 10 and NEC; Nominate and promote teams and student-athletes for athletic and academic awards and honors
Perform other duties as assigned by the Director for Athletics Communications
Actively work with the Athletics Department External Team and University colleagues with regard to necessary projects
Physical Requirements and/or Unusual Work Hours
Ability to lift and transport items to facilities (i.e. computers, monitors, printers)
Event/Game staffing including evenings and weekends
Minimum Requirements
Bachelor's Degree required; Master's Degree optional
3-5 years of related experience, including in-game operation for lacrosse and soccer
Preferred Qualifications* Proficient in Adobe Creative Suite (InDesign, Photoshop, Premiere Pro) and Microsoft Office and a strong familiarity with Statcrew or NCAA Live Stats software
* Strong problem-solving and critical thinking skills
* Detail-oriented, organized and an ability to work in a fast-paced environment
* Strong understanding of sports, with specific regards to statistics, rules and game operation
* Ability to work both independently and as part of a team
* Must be self-directed and motivated and be able to work independently and work under pressure
Ability and willingness to work athletic events, irregular schedules, weekends, and nights
* Must have strong interpersonal and communication skills to interact with a diverse group of internal and external constituents
* Ability to travel with teams for multiple days at a time
* Strong supervisory skills
* Serve as an example for staff and colleagues with a high level of fiscal, ethical, and personal integrity
Hiring Range
49,400-52,000
Union: None
Department: 321006 – Sports Information
Open Until Filled: Yes
Saint Joseph's acknowledges the dignity of the individual and commits itself to promoting awareness of and sensitivity to human differences. We recognize that the contributions made by diverse groups serve to benefit the personal, academic, and professional growth of all members of the community.